4 and 8 Piece Gorilla® Wrap Systems
Colors Available

  White       

 Tan       

 Adobe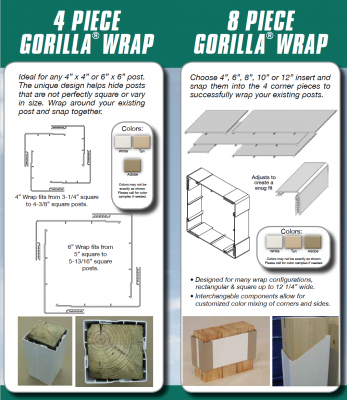 For inquiries, e-mail sales@waymarkproducts.com or call 877-652-6118.
4 and 8 Piece Gorilla® Wrap Systems
Gorilla

®

Wrap Can Cover Your Existing Wood Supports
Choose 4", 6", 8", 10" or 12" insert and snap them into the 4 corner pieces to successfully wrap your existing posts.

Adjusts to create a snug fit.

• Designed for many wrap configurations, rectangular & square up to 12 1/4" wide.

• Interchangable components allow for customized color mixing of corners and sides.

Ideal for any 4" x 4" or 6" x 6" post. The unique design helps hide posts that are not perfectly square or vary in size. Wrap around your existing post and snap together.

4" Wrap fits from 3-1/4" square to 4-3/8" square posts.

6" Wrap fits from 5" square to 5-13/16" square posts.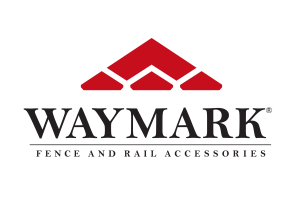 ©2019 Waymark Products LLC. All rights reserved.