2021 MERCHANTS METALS CATALOG
All building material inventories have become increasingly limited since early 2020, and vinyl is no exception. We have seen an unprecedented surge of demand, which we have
been striving to meet against a large-picture backdrop of a global pandemic and multiple
supply-chain impacting Gulf hurricanes.
We have recently acquired a sixth manufacturing plant in Texas to help alleviate some of
the pressure at our other locations. All of our plants have been, and will continue to be, running 24 hours per day, seven days a week. We have also improved production capacity without compromising quality,
added new manufacturing lines, and introduced truckload allocation for better yard balance, but are finding it increasingly difficult to fulfill the wide array of current fabrication demands.
We will be updating and revising our 2021 catalog in the interest of streamlining our manufacturing supply to your fabrication facilities while reducing order lead times.
The catalog will also be made available online and will be updated with our modifications. Our profile offerings will be reviewed each quarter to ensure we remain in step with your supply needs.
We at Homeland Vinyl truly value our relationships with you, our loyal customers. We know this year has not been an easy one,
but we've made it better together with cooperation and compromise. After a fine-tuning of processes on both sides, we're certain of a secure partnership and successful future.
_________________________________________________
Download 2021 3rd Quarter Merchants Catalog Here! 
UPDATED Oct 1, 2021!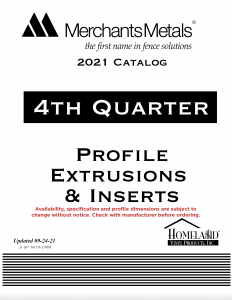 _________________________________________________
Download 2021 Accessories Catalog Here!
UPDATED October 13, 2021!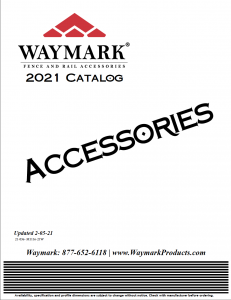 _________________________________________________
Download The Combined Merchants Metals
Warranty and Fence Fabrication Guideline
Here!