2023 Homeland & Waymark Catalogs – Now Available
HOMELAND HAS THE COLORS! We offer a full palette of 13 distinctive colors for even your most unique client's customization needs.
We are proudly introducing a new color, Aspen Latte to our
Homewood Series. We are also adding Dark Gray in privacy fence. Please contact your representative for more details.
*Note* Some colors may not be available in all profiles or markets.
We are updating and revising our new 2023 catalog, keeping the interest of streamlining our order process to delivery to your fabrication facilities in mind.
Our profile offerings will be reviewed each quarter to ensure we remain in step with your supply needs. This will enable us to keep ahead of manufacturing supply while reducing material lead times.
The catalog will be made available online and will be updated with our most current modifications as needed.
We at Homeland Vinyl truly value our relationships with you, our loyal customers. We know the recent years have not been easy, but hopefully we've made it better
together with cooperation and compromise. After a fine-tuning of processes on all sides, we're certain of a secure partnership and successful future.
______________________________________________
2023
Homeland Extrusions Download
Updated March 24, 2023
______________________________________________
2023- Waymark Accessories Download
Uploaded Dec. 13, 2022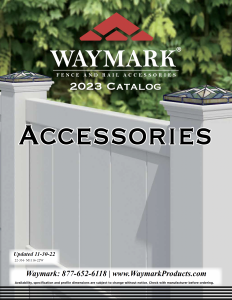 ______________________________________________
2023- RediPak/Ranch Rail Download
Uploaded Nov. 30, 2022